---
Contact email: oviedo.6980@gmail.com
Our club by-laws, standard operating procedures and membership application form are now available online in our forms section.
---
2018 Pancake Breakfast - March 31st at Canterbury Retreat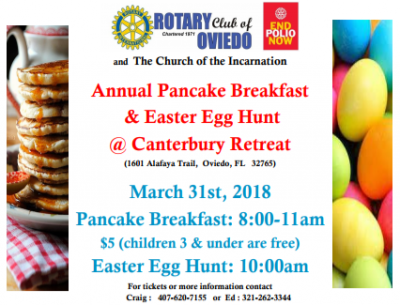 Bring the whole family out to enjoy our annual Rotary Pancake Breakfast. Stay after and enjoy the Church of the Incarnation Easter Egg Hunt all on the Canterbury Retreat grounds. Children 3 & under get their pancakes for FREE!
---
BLOCKBUSTER MOVIE CHARITY EVENT
Thank you all for a great event! Click on the photo above to see more images from the event - they are in the Blockbuster 2017 - JLA folder.
---
First meeting of the Interact Club for 2017 led by President Laura Hidalgo
---
June 6th Weekly Meeting
---
May 31st Weekly Meeting
---
May 17th Meeting - Classification Talks
---
Special thanks to Craig Accardo for coordinating the event this year!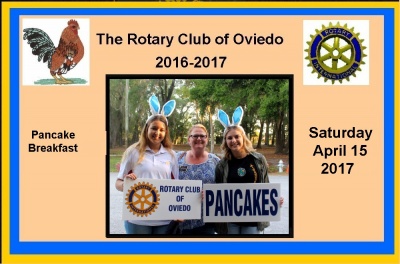 ---
April 12th Meeting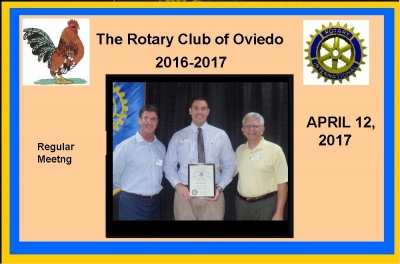 ---
March 29th Rotary Assembly
---
Congratulations to InterAct President Elect
Laura Hildago!
---
Cleaning up the community, one road at a time!
---
March 22nd, 2017 Weekly Meeting
Rotary Club Lady Rotarians 2017!
---
Photos from Weekly Meetings 02.22, 03.01 and 03.04 PETS now available in the photo Gallery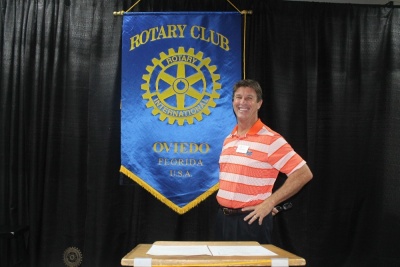 Last Day RYLA Photos also available.
(Two galleries: RYLA02262017 and RYLA02222017)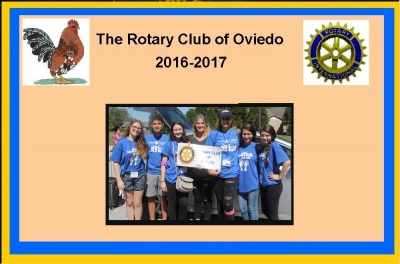 ---
February, 2017 RYLA Photos now available in the Gallery
Weekly Meeting February 15th, 2017
---
*** Blockbuster Photos *** are now available for your review in the Gallery - look for the Blockbuster Photos 2016 Gallery
---
Weekly Meeting February 8th, 2017

---
Martin Luther King Jr. Day Parade 2017
---
Weekly Meeting January 18th, 2017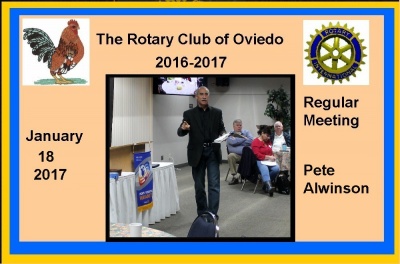 Congratulations KC! Our fellow Oviedo Rotarian & Oviedo Medical Center CEO, along with the Oviedo City Council celebrated the facility ribbon cutting in preparation for the upcoming official opening.

---
Happy New Year!
We hope you have a great 2017 and get a chance to come visit.
---
Weekly Meeting December 21st, 2016
Weekly Meeting December 14th
Weekly Meeting December 7th
Weekly Meeting November 30th
Rotaract Meeting November 29th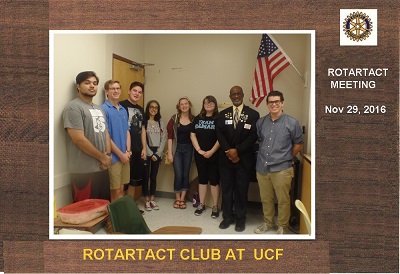 Weekly Meeting November 16th
Weekly Meeting October 19th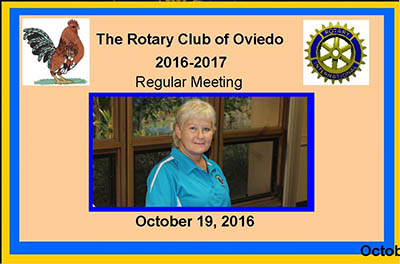 Weekly Meeting October 5th
Weekly Meeting September 28th
Rotaract September 27th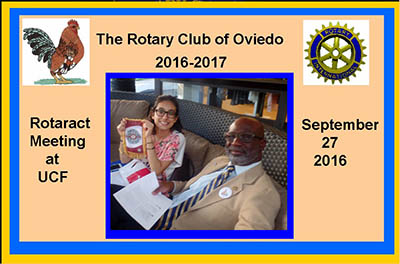 Blockbuster Movie Charity Event
Thank you for your support! This year's Movie Blockbuster was a huge success and a great time. It was great to see you'all and let's do it again next year.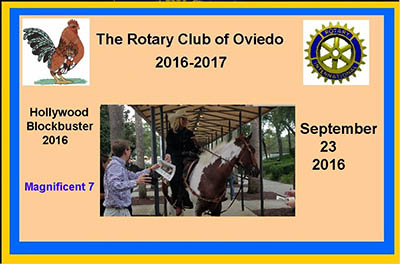 ---
Weekly Meeting - August 31st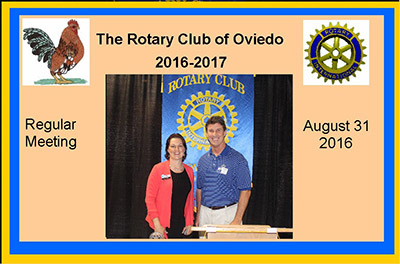 ---
RYE Training Complete
Please welcome our newest Rotary Youth Exchange Counselor! Sandy completed her training August 20th at the Altamonte Hilton Hotel. Way to go Sandy!
---
No-Limit Texas Hold'em
The Texas Hold'em Tournament was a big success thanks to your support!
---
Poker this Saturday, OHS Interact, club social and meetings galore! Great photos Harold! Thanks for hosting the social Mr. President!
More photos from July are up on the Club Photo Gallery - Thank you Harold! In July, the club joined forces with local teen volunteers and adopt-a-road to keep Oviedo clean :)
July Meeting Summary: The Rotary Club of Oviedo held several Club Assembly to plan their events for the upcoming year. Meetings were held for planning the Movie Blockbuster; The Texas Hold Em Poker Tournament and a new event - A Kentucky Derby Party. The Kentucky Derby Party will be a totally new event that will have an Equestrian theme and be a signature event for the Rotary Club of Oviedo's fundraising to benefit Rotary International and local charities. ~ Thanks for the summary Parks!
It's official! Alex passed the gavel over to Ed last week ending a great year in our club. Here's to what we can accomplish in the coming year!
---
Photos from the 2015-2016 District Awards are now posted! Thanks Harold for the great shots and District Governor A.J. Range for the wonderful leadership this past year!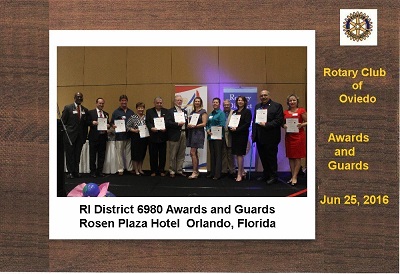 ---
Thank you for the great turn out at our Officer Installation Banquet on the 17th of June. We have had a great year under Alex and are looking forward to see where Ed will take us.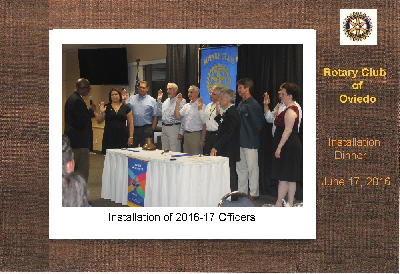 ---
Welcome our newest members. Rotary Club of Oviedo recently inducted five new members. Fantastic event and thank you Harold for the photos!
---
Justin's Bike-a-Thon fundraiser
Justin was unable to make it back so he made a video instead. Check it out on facebook and support him if you can.
---
Scholarship Winners
It was great to have all four scholarship recipients attend the meeting on May 25th! Great job and best of luck.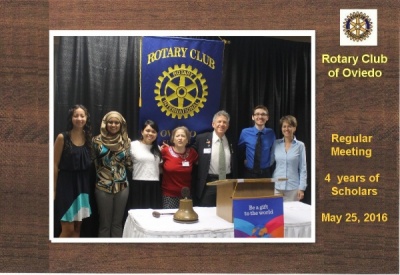 Thanks for the great photos, Harold! You can see a few more in the gallery.
---
Upcoming Events
Don't miss out on upcoming Rotary Club & District events shown in the appropriate events section.
---
Join Us
If you are not a member, feel free to stop by our Wednesday morning meetings at the Canterbury Retreat to see what Rotary is all about.
---
Notice - Image gallery updated 11.27.2017.
---